ISO Certificates
Founded in 1982, MEAN WELL is one of few manufacturers dedicated to standard power supply in the world. It is ranked the 4th in global power supply (DC output) makers according to a report by Micro Technology Consultant released in March 2020. Differing from the first three manufacturers' ODM/OEM oriented business model, almost 99% sales turnovers by MEAN WELL comes from standard power supply products sold under the own brand name.

Thanks to robust partnerships with 200 plus authorized distributors around the world, MEAN WELL has been growing and getting stronger for three decades. With 2,800 employees located at its global headquarters in New Taipei Industrial Park, Taiwan, branches at Guangzhou, Suzhou in China, California USA, and Netherlands in the EU, three advanced production bases in New Taipei City (Taiwan), Huadu District in Guangzhou, and Suzhou City in China, MEAN WELL had a combined revenue of USD 1,001 million in 2019.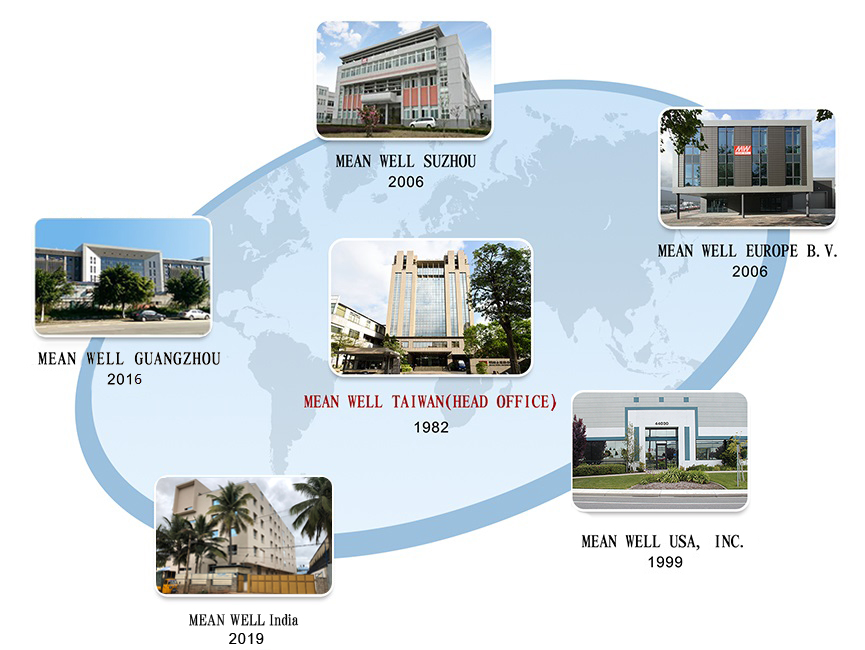 Mean Well India Electronics Private Limited was incorporated in December, 2019 under Ministry of Corporate Affairs, Govt of India. The Company is a subsidiary of the group company Mean Well Enterprises Co. Ltd., Taiwan

Mean Well India is located in Southern part of India in city of Bengaluru. Its spread over 3,000 Sq mtr area to accommodate Full-fledged Production line and Warehouse to support local distributors, system integrators and penetrate deep into Indian Market. At the same time, it provides more real-time product sales / technical support / after-sales maintenance and other localized services for customers.

Mean Well India is also committed to carry forward the legacy being "reliable partner" with customers, suppliers, contractors, employees to build long lasting mutual trust relationships based on the spirit of "good intentions."